Character Bio's
Shamgarn (Sham-gawrn)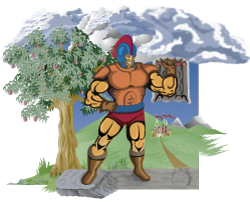 Shamgarn was born in the tribe of Davalous in the southern region of Tiny Haven. He was raised by his parents in the township of Panterous. He learned the trade of mechanical artisan from his father Shaltar.
Shaltar noticed that Shamgarn, from a very early age, had a great aptitude for building fantastic machines. Both of Shamgarns' parents realized right away that Shamgarn had been blessed with unique power.
As Shamgarn grew into young adulthood he realized that he had tremendous physical strength. While helping his father refit some heavy machinery one of the support beams that held the machine press in place gave way and Shamgarn leapt towards the press and caught the falling machine and held it in place. His father stood and watched in amazement as Shamgarn not only held the machine but was able to pull up the support beam and fasten it into place.
Soon after the machine incident, Shamgarn and his father tested his strength and discovered that he could lift 1,000 pounds with moderate effort. Shaltar then had Shamgarn drag the same weight for several yards. Shamgarn was able to achieve the feat with no signs of physical stress. With this discovery Shaltar decided that it was time to train Shamgarn in the hand to hand fighting style of Rock Hand. As Shamgarn trained he learned that he had incredible hand eye coordination and great speed.
During most of Shamgarns life Shaltar had been secretly working on a personal flight pack that he hoped one day would propel a man through the air at great speeds. Shaltar had finally completed a working prototype but was unwilling to test it on an actual living person. One fateful day however the news of a strange wraith-like man appearing in the skies over the kingdom of Tiny Haven and causing all manner of destruction, reached Shamgarns' tribe.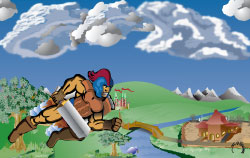 With this news Shaltar was now convinced that Shamgarn was truly blessed with great physical power for the purpose of defending the realm of Tiny Haven. He decided to reveal his personal flying pack to Shamgarn and trust that Shamgarn could utilize it with no harm or ill effects befalling him.
Shamgarn eagerly donned the flight pack and with a brief but informative talk with Shaltar, Shamgarn took to the sky to seek out the villains that had begun to assault the Kingdom of Tiny Haven.