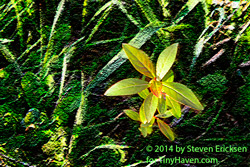 by: Steven Ericksen © 2015-2022
All Rights Reserved.
While crouching in the grass you are unaware that a rather large male Boarnot is approaching your location. He most likely has smelled you and thinks you might make a tasty pre supper snack or at the very least a useful slag worker in the iron mines of Perkasite in the North lands. The Boarnot's are not particular when it comes to their dietary concerns so you would be considered edible fare. The male Boarnots are unusually large beings and are quite loathsome in appearance. With their low furrowed brows and there deep inset eyes they have the look of being angered at all times. Their skin is like hard worn leather with scars from numerous battles and brawls. The odor that emits from them is like old pickles that have gone rancid.
The Boarnot that is approaching you is coming closer, evident by the sound of his pounding footsteps. You can now hear his rancid breath as he comes ever closer, you look up and suddenly you are face to face with one of Tiny Havens most fearsome beings. At that moment, as you gaze anxiously into the Boarnots fiery red eyes you realize that lying down in the tall grass in the clearing was a very unwise choice.